Pouring Bucket
Pouring buckets are available in 1, 1-1/2, 2, 2-1/2, 3, 3-1/2 and 4 yard capacities and can be custom designed to fit your application.
Features
Manually Operated
Clamshell Gates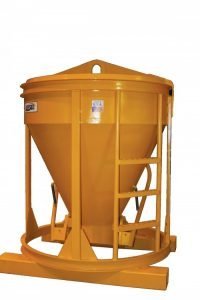 Optional Enhancements
Access Ladder
For hooking/unhooking and easy access for cleaning.
Handle Extension
For easy pouring of tall forms.
Air or Hydraulically Operated Clamshell Gate
Rubber Chute
Attaches to the clam shell gate for pouring accuracy.