It is with a heavy heart that we mourn the passing of Tom Howell, longstanding member of the Besser Pipe & Precast Sales Team. Tom passed away unexpectedly on 9 October while on a business trip, visiting customers in California.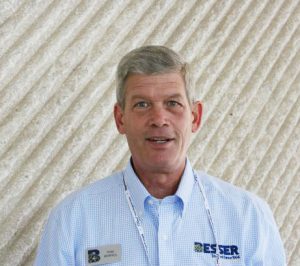 Tom began his career at Besser in 1998, quickly creating lifelong friendships with customers and coworkers alike. The Precast industry is a close-knit community that often feels more like family; Tom was certainly no exception. He was a genuine friend to all those who had the good fortunate of connecting with him through his years of travel. His dedication to family, his pride in Besser, and his vibrant sense of humor will truly be missed by all. In Boone, we will think fondly of his usual morning greeting, "well, hello sunshine," when we look up from our desks – something that's sure to remain a small legacy among our team there.
Our sincere condolences go to his wife Sue, son, Aaron (Alicia), his grandson Knox, and "grandbaby H" (due later this month), along with the rest of his family and friends.