Masonry & Hardscape: Turntable Drive Wheel Adjustment
The turntable drive wheel, part number 05-455004B0, is used in several different driven turntable applications throughout our line of product handling equipment. Proper adjustment of these wheels will ensure maximum service life and consistent operation of the turntable assembly.
A typical application using drive wheel 05-455004B0 includes a hydraulic motor, used to drive the wheel, an adjustable motor mounting plate and the drive wheel itself. When replacing a worn drive wheel, loosen the mounting plate adjustment bolt to where there is no contact between the worn wheel and the outside diameter of the turntable. Once the worn wheel has been replaced with a new wheel, tighten the drive wheel mounting plate adjustment to where there is one inch of compression or "flat" between the surfaces of the wheel and turntable. With the new wheel properly adjusted, retighten the adjustment screw jam nut and the new wheel is ready for operation.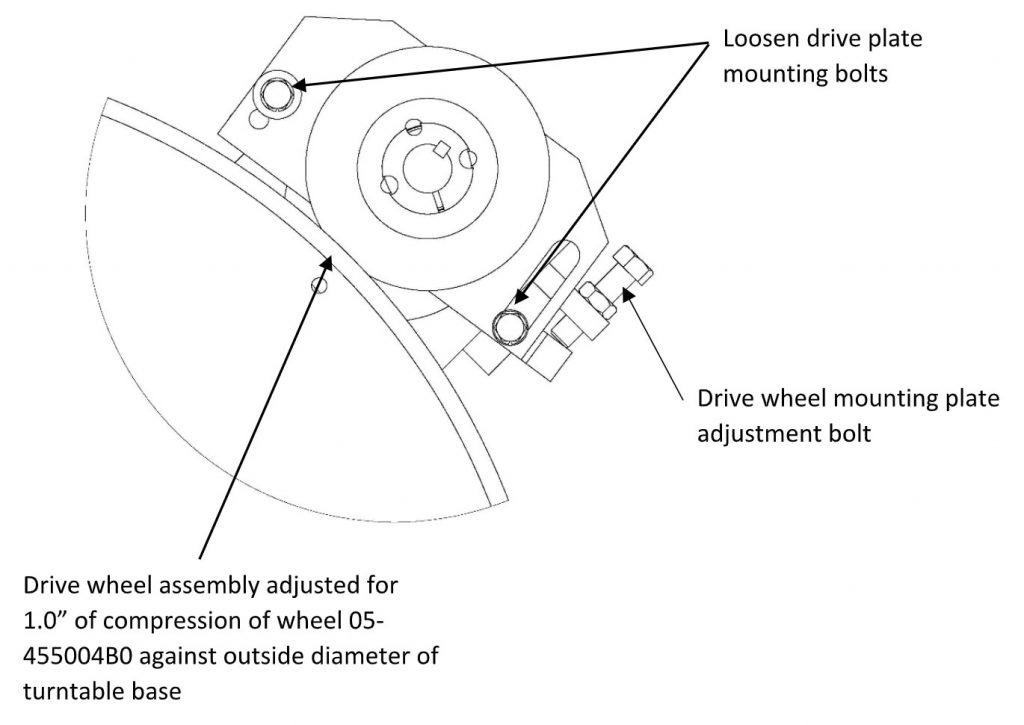 Care must be taken to not over tighten the drive wheel as doing so can cause the urethane to separate from the metal hub. If spare drive wheels are kept in inventory it is important to make sure older wheels are used before newer as the urethane may dry out and become brittle if stored for excessive periods of time.
Besser also offers belt drive conversion retrofits designed to easily fit into place of existing turntable assemblies. Retrofit 05-466072 is designed for triple and quad turntable assemblies, retrofits for other drive wheel applications are available upon request.