The Keys to Producing High Quality Pipe
Scott Kennedy, our Technical Service Manager for Pipe, authored the article, "The Keys to Producing High Quality Pipe," which appears in issue 6 of Concrete Plant International (CPI). "Producing the highest quality pipe begins with equipment that is in top working condition and a concrete mix that is designed specifically for the product being produced. I'm thrilled that producers around the world can read about the proven techniques that always put safety first," shares Scott.
Producers wanting additional training for their staff, a plant evaluation or to discuss maintenance contracts that will allow them to stay on top of recommended maintenance, can contact their Besser Representative or Scott directly.
Our Pipe Team can be reached at 712.277.8111 or Scott directly at skennedy@besser.com, 980.621.6074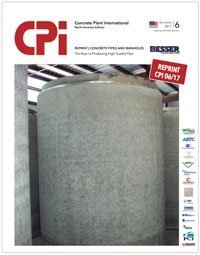 RP_1706_besser_us