Industry Professionals Visit the USA
In early July a group of industry professionals from South Korea and the Ukraine toured two Besser equipped production facilities in California. The group from Gyeongi-Do Concrete Production (the South Korean equivalent of the National Concrete Masonry Association) and Volodymyr Surup of Beton Complex in Ukraine, accompanied by Natasha Arkhipenko, Besser sales representative for Russia, visited ORCO Block Company's plant in Riverside and Rialto Concrete Products Pipe plant in Rialto.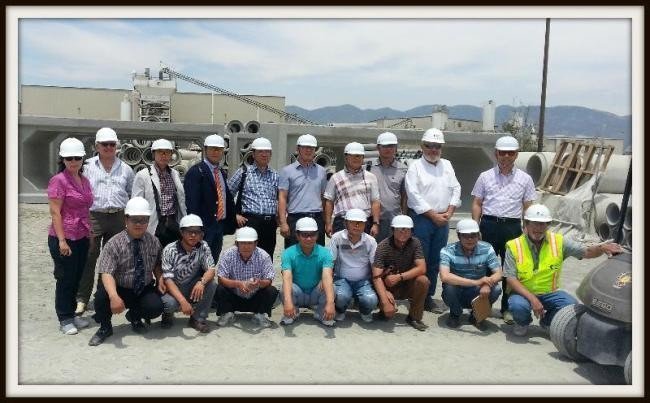 The group was accompanied by Rodney Lang, Sales Representative for the West Region, Natasha Arkhipenko, Sales Representative for Russia and longtime industry member B.M. Kang. At ORCO they were met by Dwayne Gleason, Vice President of Operations, and taken on an extensive tour of the mammoth operation. Visitors saw five complete production lines including three Dynapacs®, one Superpac®, a V3-12 Vibrapac® in addition to a complete Besser Big Board facility in operation. The group saw a variety of concrete products being produced and even more architectural and hardscape units in the  yard and in the showroom.  At the Rialto plant (a company within the KTI Pipe Group), they were greeted by Jerry Cowden, Vice President  and given a behind the scenes tour.  Four lines comprise the complete operation including three BiDi® concrete pipe machines and a Vibro-Mac®. The broad range of pipe diameters,  from 12″ (300 mm) to 84″ (2100mm) and lengths from 8′ (2.5 mm) to  12′ (3.5 mm) and shapes in diameters up to 156″ (4100 mm), impressed members of the group.
Tour participants had the opportunity to see and hear (with the help of translators) firsthand from producers using Besser equipment why they place their trust in Besser. They were impressed with the consistent, effortless operation of the equipment and the different types of high quality products being produced. Our guests saw every aspect of the entire concrete masonry, hardscape, and pipe production processes. We'd like to give special thanks to  Dwayne Gleason from ORCO and Jerry Cowden from Rialto who were terrific hosts.