Fall and Winter Blockmakers Workshops
The World Center for Concrete Technology (WCCT) will be holding Product Handling, Concrete Masonry Technology and Vibrapac® courses this fall and winter.   Join us or invest in your employees' education by sending them to the Blockmakers Workshop® program with a 60 year legacy in the concrete products industry. Seats are limited and students are encouraged to enroll early.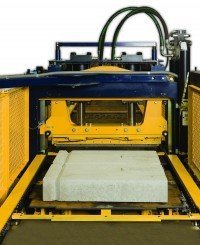 Product Handling
13-17 October 2014
The Product Handling course covers adjustments, schematic print reading and solid state circuitry of E-Model and Multi-Spade Besser-Matic® loader/unloaders, LSC and PTS handling systems and cubers. Troubleshooting and practical applications are covered on all concrete products handling equipment. USD $1050
Concrete Masonry Technology
1-5 December 2014
Concrete Masonry Technology covers all aspects of manufacturing concrete products.  In an easy-to-follow structured format, the class covers raw material components (cement, water, aggregate, admixtures and pigment), hands-on aggregate sieve analysis, multi-aggregate blending, mix designs, manufacture of product and curing fundamentals. It really is the complete package which will produce an immediate  impact within your operations.  Be assured that after the completion of class, students will have a working understanding of all aspects of raw materials, mixing sequence, mix designs and curing to champion this knowledge when they return back to their facilities. USD $1050
Vibrapac
8-12 December 2014
The Vibrapac concrete products machine course is a hands-on study of the proper machine adjustments, electronics and electrical schematic print reading of the V3 Vibrapac concrete products machines. Students are given troubleshooting problems as a  practical application of these topics.  USD $1050
If you would like more information on these courses or training in your plant, please call +1.989.354.1023 or e-mail training@besser.com.